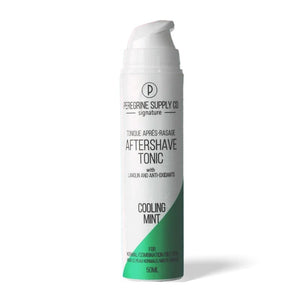 Aftershave Tonic
Regular price
$17.00
$0.00
Bright and invigorating, Peregrine's Cooling Mint Aftershave Tonic is the perfect final step to your shaving routine. The blend of essential oils lends a cooling, anti-inflammatory quality to this aftershave.
Aftershave Tonic helps close pores to prevent bacteria, and dirt, from affecting the skin. In turn, reducing breakouts, razor burn, or razor bumps and helps cuts from shaving heal quicker.

Natural

Organic

Gluten-free

Cruelty-free
Aloe soothes and deeply moisturizes skin to prevent dryness or irritation after you shave. Aloe can also speed the healing of minor cuts and blemishes

Witch Hazel tones and refreshes the skin to prevent any heavy, oily feeling post-shave. It also acts as an anti-microbial astringent to clean and close pores, meaning no ingrown hairs or razor bumps

Bladderwrack Extract contains large quantities of vitamins, minerals and hyaluronic acid, which speeds up cell and tissue regeneration. It also helps to maintain the skin's natural moisture level and reduce inflammation.

Rosemary Extract contains a powerful antioxidant, carnosic acid, as well as astringent properties, allowing it to help maintain skin elasticity and improve skin tone.

Jojoba Oil works to moisturize and protect skin post-shave, without clogging pores or leaving any heavy, greasy feeling on the skin

This Aftershave Tonic is a mix between a traditional alcohol splash and a moisturizer. You'll get some of the disinfecting and antibacterial qualities of an alcohol splash, and the benefits of using a moisturizer.
Apply one or two pumps after shaving to fight irritation and inflammation, and to keep skin moisturized and toned.
Hamamelis Virginiana (Witch Hazel) Extract, Aloe Barbadensis (Aloe) Leaf Extract, Simmondsia Chinensis (Jojoba) Oil, Leuconostoc /Radish Root Ferment Filtrate, Cannabis Sativa (Hemp) Seed Oil, Fucus Vesiculosus Extract, Hydrolyzed Oat Protein, Panthenol, Lanolin, Sodium Lactate, Polyacrylate Crosspolymer-6, Mentha piperita (Peppermint) Oil, Mentha Spicata (Spearmint) Oil, Benzyl Alcohol & Salicylic Acid & Glycerin & Sorbic Acid, Allantoin, Rosmarinus officinalis (Rosemary) Leaf Extract, Propanediol (and) Water (and) Olea Europaea (Olive) Leaf Extract.