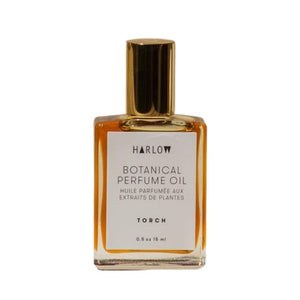 Botanical Perfume Oil - Torch
Regular price
$58.00
$0.00
A warm and smoky perfume oil for day and night.
Notes: Cedar wood,  Frankincense, Vanilla.

Natural

Organic

Gluten-free

Cruelty-free
Designed to interact with our human chemistry igniting subtle nuances like a torch.  Blended using botanical resins and pure essential oils leaving our authentic scent enhanced and undisturbed.
Cedarwood Essential Oil: Cedar wood essential oil helps to promote clear, healthy skin and also for skin to recover quickly.
Frankincense: Calming and grounding, Frankincense is proving to be beneficial in treating depression, anxiety and melancholia. Frankincense is non-toxic, non-irritant and non-allergenic.
Black Pepper Oil: Black Pepper oil protects the body from further damage done by free radicals as well as aids in repair damage that has already been done.
Ricinus Communis (Castor) Seed Oil**, cistus ladaniferus l. resinoid (labdanum resin), Styrax Benzoin Resin Extract, Betula Lenta (Sweet Birch) Tar, Commiphora Myrrha (Myrrh) Resin**, Cedrus deodora (Himalayan Cedar) Wood Oil*, Juniperus virginiana (Virginian Cedarwood) Oil*, Boswellia serrate (Frankincense) Oil*, Piper Nigrum (Black Pepper) Berry Oil*, Boswellia serrate (Frankincense) Crystalized Resin
Absolutely Beautiful
This is the perfect scent for Fall, or if you are the kind of person who wants to smell "good" without smelling like "perfume". It is the perfect level of smoky and earthy with a bit of sweetness from the vanilla rounding out the sharper frankincense and cedar notes. I would say that this is for those who like comfortable, lived-in scents that wear closer to the skin; this is a "subtle, but there" type of scent that fades gradually and gracefully over about 4 hours. It is genderless and rich, with just the right level of smokiness. The bottle is portable, and made of sturdy glass with a metal roller ball type application. I love that the oil has more of a thick, waxier consistency so when you apply it, it doesn't drip down your wrist or neck!
This is an absolutely luxurious (and necessary ;) ) self- care product for me this Fall.