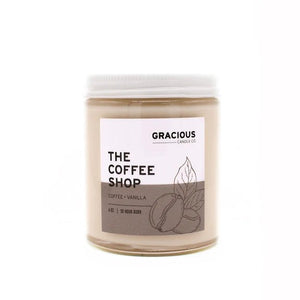 Coffee Shop Candle
Regular price
$17.00
$0.00
To us, the coffee shop is definitely a community staple. Whether stopping in for "the usual" on a weekday morning, catching up with a friend over a flat white, or taking in the sense of productivity while working on a side-hustle beside other entrepreneurs, there's always a sense of familiarity when you step into your neighbourhood coffee shop.

Natural

Phthalate-free

Soy wax

Clean burn
Like all Gracious candles, this candle is hand-poured in Baden, Ontario. It's made with 100% plant-based ingredients, including EcoSoya brand soy wax, a naturally coated cotton wick, and 100% essential oils.
They're free of parabens, genetically-modified material, and both pesticide and herbicide residues. This means the entire Equinox line are clean-burning candles, sure to bring simplicity and comfort to your home.