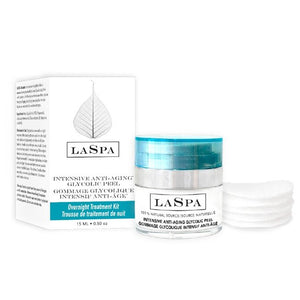 Intensive Glycolic Peel (10%) Overnight Treatment Kit
Regular price
$98.00
$0.00
Exfoliate the skin, clear your pores and reduce the appearance of dark spots, fine lines and wrinkles. This treatment will also brighten and plump the skin and reduce the signs of aging. With this kit you can fight free radicals using powerful natural antioxidants.

Natural

Organic

Gluten-free

Cruelty-free
Dull, Ageing. (Do not use on broken skin)
Unique 2-in-1 Glycolic / Hyaluronic Acid for exfoliation and moisturizing.
Glycolic Acid at maximum strength for consumers (10%) and delivers an optimal pH balance of 3.5pH.
Perfect for at home maintenance or pre-event preparation.
An effective and safe way to exfoliate and increase skin turnover in two (2) one-week treatments.
Use SPF for daytime protection.
To be used 5-7 consecutive nights in a row for maximum results (one-week overnight treatment). SHAKE WELL BEFORE USE. Apply the solution evenly onto clean skin, using 1 or 2 pumps from the jar before bedtime. Do not use other skincare products after application. Avoid contact with eyes, nose and mouth. In the morning, follow your regular skincare routine using sunscreen for sun protection. Repeat for 5-7 consecutive nights using one clean cotton pad each night. Wait at least 2 weeks to repeat.
Purified Water, Glycolic Acid (10%), Propanediol, Witch Hazel Distillate*, Resveratrol, White Willow Bark Extract*, Hyaluronic Acid, Gluconolactone SB (Sodium Benzoate).
* Certified organic