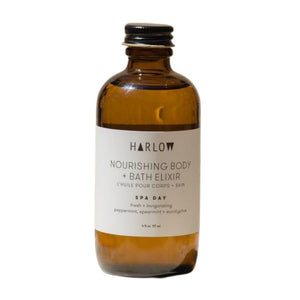 Nourishing Body + Bath Elixir - Spa Day
Regular price
$25.00
$0.00
An elixir created to recharge your skin. 
Fresh and invigorating with aromas of peppermint, spearmint and eucalyptus. Lightweight and deliciously hydrating, our Vegan body elixirs take you from morning to night and beach to bed.  A hydrating blend of botanical oils designed for body and bath created to enhance your pre or post cleansing rituals.  

Natural

Organic

Gluten-free

Cruelty-free
Abyssinian Seed Oil: Abyssinian oil contains a high level of cis-12-docosenoic acid, a long chain fatty acid which contributes to its superb nutritive skin benefits and its excellent moisturizing properties. It penetrates the skin quickly and is non-comedogenic (doesn't clog pores) This is a seed oil which is naturally high in erucic acid, up to 58%, with which it has excellent properties for the rehydration and protection of dry skin.
Camellia Seed Oil: A wild flower which grows in China and Japan, this natural plant oil contains antioxidants and helps to give a revitalized and rejuvenated look to your skin and hair. It smoothes rough and flaky skin, soothes and calms easily irritated skin.
Olea Europaea (Extra Virgin Olive) Oil**, Brassica Abyssinica (Abyssinian) Seed Oil, Camellia Sinensis (Camellia) Seed Oil**, Unrefined Canola Oil**, Mentha Viridis (Spearmint) Leaf Oil*, Mentha Piperita (Peppermint) Oil*, Eucalyptus Globulus (Eucalyptus) Leaf Oil.*
* Essential oil
** Organic