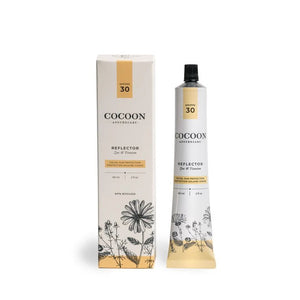 Reflector
Regular price
$27.00
$0.00
A mineral facial sunscreen with SPF 30 that will provide broad spectrum protection for your face without irritating your skin. Zinc and titanium act like tiny mirrors that reflect sun rays off your face rather than creating a chemical reaction on your skin. This non-greasy formula goes on easily and doubles as a light moisturizer. Packed with nourishing natural ingredients that help keep skin healthy and balanced. No break outs!
Please take note that your Reflector may come in prior packaging as we support Cocoon in the transition to their rebrand. 


Natural

Organic

Gluten-free

Cruelty-free
Light formula that won't clog pores or irritate the skin
Broad spectrum protection from UVA/UVB rays
Contains natural ingredients with skin healthy antioxidants and fatty acids
Reef/water safe
Zinc Oxide and Titanium Dioxide: Naturally occurring minerals that work like tiny mirrors to deflect UV rays off skin. Gentle and cooling.
Sea Buckthorn Seed Oil and Pulp Extract: Contains high levels of carotenes to protect skin cells from sun damage as well as soothing essential fatty acids and phytosterols that support collagen production.
Shea Butter: Creates a soft, breathable barrier on the skin that moisturizes and prevents water loss. Contains pro-aging vitamins E and A.
Apply generously (and evenly) 15 minutes before sun exposure. Reapply at least every 2 hours.
For use on children less than 6 months of age, consult a health care practitioner.
Use a water-resistant sunscreen if swimming or sweating.
Medicinal Ingredients: Titanium Dioxide 9%, Zinc Oxide 6% (Non-Nano).
Non-Medicinal Ingredients: Shea Butter, Rice Bran Oil, Buriti Oil, Oleoresin Rosemary, Sea Buckthorn Seed Oil, Polyglyceryl-6 Distearate, Glyceryl Stearate Se, Candelilla Wax, Glycerine, Xanthan Gum, Resveratrol, Potassium Sorbate, Purified Water, Aloe Juice, Ascorbic Acid, Tapioca, Benzyl Alcohol, Salicylic Acid, Sorbic Acid, Olive Leaf Extract, Turmeric Root Extract, Calendula, Ginkgo Biloba, Aluminum Hydroxide, Lauric Acid, Triethoxycaprylylsilane.
Mineral sunscreen
I bought this as a face sunscreen. It works well in terms of sun protection. I found it a bit chalky and thick. I had better success with Salt & Stone, SPF 30 because it was creamier.
Great Face Sunscreen
I love the ingredients that are in this formula and a little bit of product goes a long way! I've purchased this a few times and I'd recommend to use a small amount after moisturizing and it should go on like butter without making your face pale.
Great for sensitive skin, hard to get the last of the cream out
I tried La Spa sunscreen as well but I keep coming back to this sunscreen. It is thick but my skin never feels irritated. La Spa feels ok but the oil does not get absorbed in my skin, and it stays wet even after half an hr (which makes my clothes and hats oily too) so I end up wiping it off. The only downside of Reflector is because how thick it is, I couldn't get the last 1/5 of sunscreen from the bottom of the bottle. I managed to scoop some out but it gets messy.
Thank you so much for this review. The comparison is super helpful.
One thing that has helped me with my bottle of Reflector is giving it a GOOD, HARD shake before each time I use it! I do find that it helps not leave the product so thick as it gets towards the end.
Worked Well, but not my Favourite Face Sunscreen
I like the recyclable packaging, but it left a stickiness on my skin and I could always feel that I was wearing it. Sunscreen can cause breakouts and rashes for me, but this one did not!
Disappointed
It always looked chalky no matter what I tried. I'm not fair so you could really see how white it looked on my skin. I applied a light cream as a base but still chalky to apply. I would have to rub it into my face quite hard that my skin got irritated . I tried a serum as a base before applying it with the same results. I might have gotten a bad batch because then it wouldn't pump out of the bottle. Disappointed with my money spent ☹️
Hi Irina,
Sorry you were disappointed with this sunscreen as well. One trick is to shake before each use - a real generous shake. The minerals can settle and make it harder to pump. There is a slight white cast you speak for sure . You were disappointed with the La Spa stick - but their tinted SPF is lovely! I wear shade Golden. Smooth, tinted, and mattifying yet hydrating!