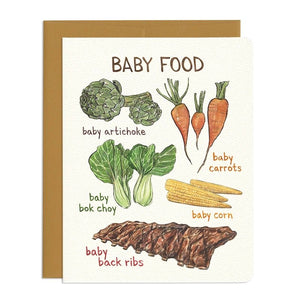 Baby Food Card
Regular price
$5.00
$0.00
This card is full of drawings of baby food, although you might not want to feed them to the new baby! Give this funny and unconventional card to congratulate the new (and very stressed) foodie parents, who can well use a laugh.
A2 size (4¼" x 5½" when folded).
Blank inside.
Offset printed in Toronto on natural-white, heavyweight, textured paper, and die-cut with rounded corners.
choosing a selection results in a full page refresh
×

You are almost at free shipping.
Check out this page for basket adds:
Learn More
Or
Proceed to Checkout