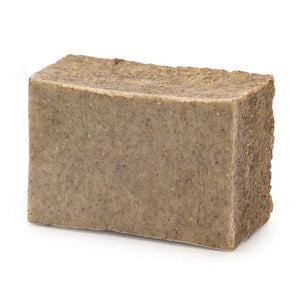 Exfoliation Soap Bar
Regular price
$8.00
$0.00
This highly exfoliating soap bar can be used to exfoliate your body or to bring rough, calloused feet back to life! Cleanse your skin using nourishing ingredients, while sloughing away dead skin cells to reveal smoother, softer skin.  

Natural

Organic

Gluten-free

Cruelty-free
Normal to Oily.
This zero-waste soap bar contains cornmeal to naturally exfoliate the skin.
The aroma of fresh lemongrass, floral notes of lavender and herbaceous scent of sage envelop the senses.
Nourishing beeswax and cocoa butter form a protective layer on the skin.
Olive oil promotes moisturized and hydrated skin.
Lather the soap and apply it directly to your skin using circular motions before rinsing.

Exfoliation is only recommended 1 or 2 times per week.
Olive oil, water, sodium hydroxide, cocoa butter, beeswax, sand, cornmeal, essential oils (lemongrass, lavender, sage).