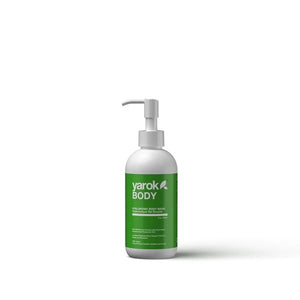 Hyaluronic Body Wash
Regular price
$40.00
$0.00
Rinse away impurities and unveil your skin's hidden radiance with Yarok's hydrating and luxurious blend of Plant Based Tamarind Seed Hyaluronic Acid and Essential Oils of Organic Turmeric and Organic Ginger.

This cleansing formula will enhance skin hydration, improve skin elasticity, and feel like you are being taken care of as our therapeutic, invigorating blend of ten essential oils penetrates into the deep layers of the skin. This wholesome blend will have you feeling healthier than ever, while leaving your skin with a silky smooth touch.

Natural

Organic

Gluten-free

Cruelty-free
Feel good knowing every cleansing drop is completely green in origin from an edible and renewable source. Not only is this product 100% vegan and free of alcohol, paraben, sulfates, chemicals and gluten, but 3% of all profits directly support Pachamama Alliance and their mission to protect over 10 million acres of Amazon Rainforest.
This body wash will strip away all impurities without drying out your skin.

Formulated with the healing power of Tamarind Seed Hyaluronic Acid, a botanical rich in antioxidants and anti-aging properties.
Apply a generous amount to the hands, creating a rich lather. In a gentle circular motion, massage onto damp skin from head to toe. Rinse thoroughly.
Saponified Oils (Coconut*, Olive*, Jojoba*); Ultra-filtered Water; Vegetable Glycerin*; Tamarind seed plant based Hyaluronic Acid (Tamarindus Indica Seed Polysaccharide and Glucose); Aloe Vera*; Dandelion Extract*; Rosemary Extract**; Potassium Sorbate; Certified Organic oils of: Ginger, Turmeric, Geranium, Rosemary, Petitgrain, Peppermint, Sweet Orange, Lemon, Sage and TeaTree.

* = CERTIFIED ORGANIC, ** = ORGANIC, *** = WILD HARVESTED