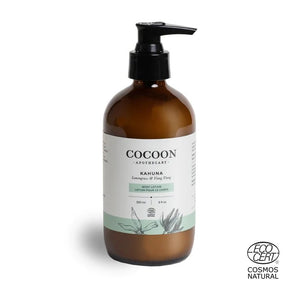 Kahuna Body Lotion
Regular price
$20.00
$0.00
An organic body lotion that smells like a tropical paradise with fresh lemongrass, flowery ylang-ylang and sweet coconut. Super-hydrating and fast-absorbing, Kahuna locks in moisture with the luxurious oils of virgin coconut and macadamia nut. Keeps your skin feeling nourished and moisturized with a super-light feel. Treat yourself to a trip to the tropics every time you moisturize.

Natural

Organic

Gluten-free

Cruelty-free
Made with gentle natural ingredients suitable for sensitive skin and dry skin.
Macadamia Nut Oil: A rich source of oleic acid and palmitoleic acid, which are fatty acids found naturally in the skin. Palmitoleic acid acts as an antioxidant to repair dry skin.
Lemongrass Essential Oil: Reduces the appearance of cellulite.
Purified Water, Certified Organic Virgin Coconut Oil, Certified Organic Macadamia Nut Oil, Cetearyl Alcohol (Wax from Coconut), Stearic Acid, Vegetable Glycerin, Certified Organic Lemongrass, Certified Organic Ylang Ylang, Sodium Anisate (Derived from Basil), Sodium Levulinate (Derived from Corn), Sodium Cetearyl Sulfate (from Coconut).
Natural, Organic, Vegan, Gluten Fee, Non-GMO
Treat your Skin!
This body lotion has done wonders for my skin! It absorbs easily and leaves my skin feeling soft and super moisturized! It also smells absolutely wonderful!