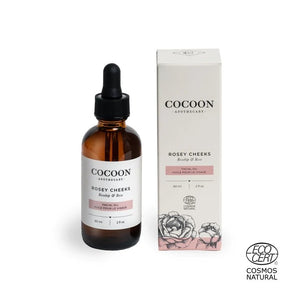 Rosey Cheeks Serum
Regular price
$37.00
$0.00
A blend of antioxidant-rich organic oils and extracts that repair and support dry skin. Cold-pressed avocado and tea seed oils offer a rich moisturizer that compliments the soothing essential fatty acids found in rosehip extract. This fast-absorbing formula will give your skin the boost it needs to look healthy and radiant.

Natural

Organic

Gluten-free

Cruelty-free
Normal to Dry.
Skin appears visibly radiant
Diminishes signs of aging
Soothes redness and irritation from dry skin
Supports elasticity and firms skin
Rosehip CO2: Contains high levels of antioxidants and fatty acids that diminish the signs of ageing.
Rose Absolute: A fresh rose scent that also contains beta-carotene to keep the skin firm.
Avocado Oil: Composed of squalene, phytosterols and oleic acid to retain moisture in the skin.

Apply two to three drops directly onto your skin in the morning and evening. This serum can be added to your facial cream, layered underneath or used on its own.
Rosehip CO2*, Avocado Oil*, Camellia (Green Tea) Oil*, Rose Absolute, Vitamin E.
* Certified Organic
Strong Rosy Smell
It was hard for me to get past the strong rose smell of this serum. In the end I switched to another product. If you love the smell of rose then this product may be for you!
Really nice serum
I really enjoy using this serum, it smells good and feels great on my skin. It absorbs really fast!