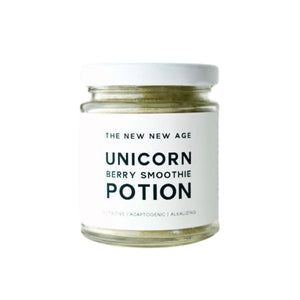 Unicorn Berry Smoothie Potion
Regular price
$15.00
$0.00
Organic wheatgrass juice powder blended with goji berry juice powder and an assortment of detoxifying and alkalizing herbs.

Natural

Organic

Gluten-free

Cruelty-free
Deep green, alkalizing, adaptogenic.
Wheatgrass is an excellent source of many different vitamins and minerals. It is especially high in vitamins A, C and E, as well as iron, magnesium, calcium and amino acids.

Goji berries are high in antioxidants that protect against free radicals, which are harmful molecules that can damage your cells.
Stir into your smoothie or plant-based milk.
Wheatgrass Juice Powder, Goji Berry Juice Powder, Nettle, Chlorella, Fennel, Beet Root, Yacon, Olive Leaf.

All ingredients are either permaculturally grown, ethically wild harvested or certified organic.