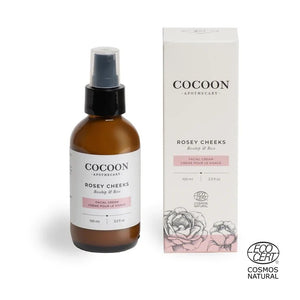 Rosey Cheeks Facial Cream
Regular price
$36.00
$0.00
A nourishing facial cream that harnesses the therapeutic power of nature to soften, nourish, and rejuvenate skin. Made with organic oils carefully chosen for their extraordinary ability to keep skin smooth, firm and radiant. This non-greasy formula absorbs nicely into the skin and can be used both day and night.

Natural

Organic

Gluten-free

Cruelty-free
Normal to dry
Skin looks visibly younger and revitalized
Rich formula with matte finish that maintains hydration for the entire day
Improves elasticity and texture of skin
Protects from environmental stressors
Rosehip oil: Pressed from the seeds of the rose bush, this oil is rich in fatty acids and antioxidants that smooth wrinkles, firm skin, and improve the look of acne scars.
Avocado oil: Supports elasticity and softens the texture of skin.
Shea butter: Creates a breathable barrier that retains moisture and protects the skin.
Apply to the face, neck and chest every morning and evening.
Purified Water, Certified Organic Rosehip Oil, Certified Organic Avocado Oil, Certified Organic Camellia (Green Tea) Oil, Certified Organic Shea Butter, Cetearyl Alcohol (Plant-Based), Stearic Acid (Plant-Based), Vegetable Glycerin (From Non-GMO Canola), Sodium Anisate (from Basil), Sodium Levulinate (from Corn), Rose Absolute, Sodium Cetearyl Sulfate (Plant-Based), Vitamin E, Glyceryl Caprylate (from Coconut).
*Natural, Organic, Vegan, Gluten-Free, Non-GMO
My longtime favourite moisturizer
I absolutely love this moisturizer. I use it in conjunction with the Rosey Cheeks serum (sometimes even with the Carotene Glow) and it's amazing. Provides enough moisture for the dry winter months without irritating skin. The light rose scent is lovely. One of my absolute faves!
Creamy & Smells Amazing
LOVE THIS PRODUCT. I really enjoy cocoon apothecary and their products and I have never been disappointed with the quality & price.
A Rosey Dream
This is a great moisturizer. It plays well with all of my other products, it's not super heavy, but it's very very moisturizing. I find it can take a couple extra seconds to absorb on my not so dry areas but my dry areas drink this right up! The smell is beautiful, so truly rosey, but not overpowering and it dissipates once absorbed into the skin. I will absolutely repurchase this!
Everything is perfect...except the dispenser pump
I have been buying rosey cheeks for years now, and it is honestly the perfect face cream for sensitive dry/combination skin. Feels light in the summer and rich in the winter (I pair with the Cocoon Apothecary serum). My face feels smooth and glowy, and I can visibly notice the difference in my skin when I wake up compared to days I don't use it. Absolute go to. I also love that the company is local to KW and the bottle is glass and can be reused. That being said, the pump sucks. Without fail I always end up having to use the straw to "scoop" out the product which is kinda gross and defeats the purpose of a dark sealed bottle. I still continue to buy it as the product is perfect, but wish this could be updated.
Love this product!
I've been using this product for a few years now, and I have to say it is my go to facial moisturizer. Gentle for my sensitive skin, and works well in both winter and summer (I also have slight combination skin). It is lasts a fair amount of time, too! My only complaint is that sometimes the pump on the bottle stops working if it gets tipped over. I've followed instructions on getting it working again, but not always successfully. Otherwise, this moisturizer is perfect!