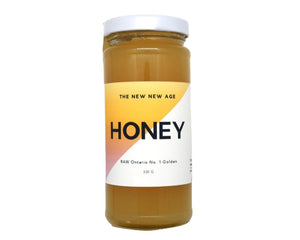 Honey
Regular price
$9.00
$0.00
This golden nectar is one of nature's many sacred gifts. It has a way of showcasing the unique terroir of the environment where it was made and capturing the healing essence of the summer sun.
This limited edition raw wildflower honey comes from The New New Age's family's apiary down the road from their farm and features an abundance of native prairie and forest.
Nectar sources such as linden, anise hyssop, and bee balm contribute to the delightfully light yet complex flavour.
choosing a selection results in a full page refresh
×

You are almost at free shipping.
Check out this page for basket adds:
Learn More
Or
Proceed to Checkout