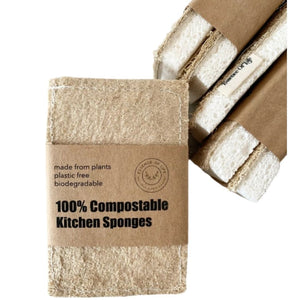 100% Compostable Kitchen Sponges, 2 pack
Regular price
$6.00
$0.00
Ditch your plastic sponge for this 100% plant-based kitchen sponge made from wood pulp and loofah plant fibres. The durable loofah top effectively removes tough stains without scratching surfaces.

Natural

Organic

Gluten-free

Cruelty-free
Just like any old regular kitchen sponge!
Entirely compostable, a zero waste, leave-no-trace item. That's one less item ending up in our landfills!