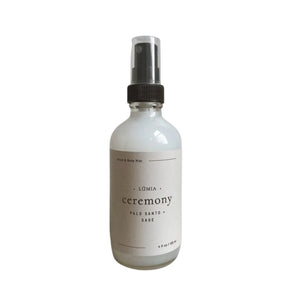 Ceremony Room & Body Mist
Regular price
$19.00
$0.00
Invoke your guides and find clarity with the bewitching scents of Sage and Palo Santo. Intended for spiritual and transitional healing.
Experience the refreshing benefits of all-natural room mist. Lumia's carefully crafted blend of essential oils will instantly transform your space, promoting relaxation, reducing stress, and rejuvenating your senses. With a simple spritz, you can enjoy a clean and harmonious environment, free from harsh chemicals. Embrace the soothing power of nature in every corner of your home or office, and let the calming aroma transport you to a state of blissful tranquility.

Natural

Organic

Gluten-free

Cruelty-free
Energetic healers and body therapists can benefit from using this essential oil mist to clear residual and stagnant energy after treatments.
Palo Santo - energy clearing and calming.
Sage - spiritually and energetically cleansing and calming.
Frankincense - promotes calmness and reduces anxiety.
Spray 2-3 times overhead and breathe in deeply - or spray freely onto body and linens.
Distilled Water, Witch Hazel, Dalmatian Sage Essential Oil, Frankincense Essential Oil, Cedarwood Essential Oil, Lavender Essential Oil, Palo Santo Essential Oil, Polysorbate 20 (naturally-derived emulsifier), Optiphen PLUS (all-natural perservative / paraben-free & formaldehyde-free).