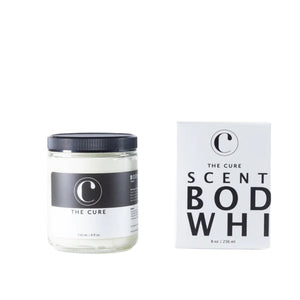 Scented Body Whip
Regular price
$33.00
$0.00
Use Body Whip every day to keep your skin happy and healthy! This rich formula, made from plant oils, helps hydrate the skin and is safe to use for the entire family.
Wonderful after both the cold winter air or the hot summer sun, Body Whip helps reduce the look of stretch marks and hydrates dry, irritated skin.
Rose Geranium + Cedarwood creates a warm, floral and spicy whip.

Natural

Organic

Gluten-free

Cruelty-free
All Skin Types.
Bulgarian Rose - Helps minimize scarring, reduce signs of aging, and helps with acne.
Geranium - Antibacterial, antimicrobial, and antiseptic properties make it beneficial for reducing acne breakouts and skin irritation.
Cedarwood - Anti-inflammatory and antimicrobial properties.
Cocoa butter - Helps soften scars and fine lines. Helps lock in moisture and protects the skin from oxidative stress.
Shea Butter - High concentrations of fatty acids and vitamins, also anti-inflammatory and provides healing properties. Helps tone and sooth skin.
Jojoba Oil - Provides anti-inflammatory properties that help to tame chaffing and chapping, reduce redness caused by drying, ease the effects of eczema and rosacea, and keep skin calm and comfortable. The Vitamin E and B-complex vitamins in the Jojoba oil help in skin repair and damage control.
Coconut Oil - This ingredient does it all. Including reducing inflammation, keeping skin moisturized and helping heal wounds. The medium-chain fatty acids found in coconut oil also possess antimicrobial properties that can help treat acne and protect the skin from harmful bacteria
Note: All of The Cure Skincare is handmade and small batch. Product may vary in colour and smell from bottle to bottle.
Apply a small size amount of whip to each area of your body. The whip will melt on contact as it is massaged into the skin. Easily absorbed.
Theobroma Cacao (Cocoa) Butter, Cocos Nucifera (Coconut) Oil, Butyrospermum Parkii (Shea) Butter, Simmondsia Chinensis (Jojoba) Oil, Bulgarian Rose Essential Oil, Geranium Essential Oil and Cedarwood Essential Oil.