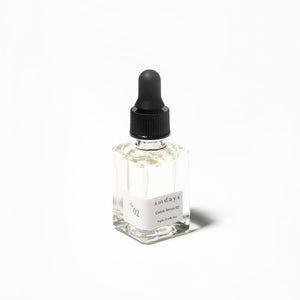 Cs.02 - Hydrating Cuticle Serum
Regular price
$22.00
$0.00
Sundays Studio Cuticle Serum 02 is perfect for dry nails, while also providing lightweight moisture and hydration to your cuticles. As the formula is designed to be non-greasy and light, it pairs well with hand lotion to help your hands look healthy and hydrated. With the major ingredient being soybean oil, the formula supports skin health by restoring natural moisture. Keeping in mind that droppers can often spread bacteria, Sundays Studio designed their dropper in a way that doesn't contaminate the bottle. Not everyone just wants their nails looking beautiful, they also want to make sure they're healthy. The Cuticle Serum 02 is the perfect blend of just that: health and beauty. 

Natural

Organic

Gluten-free

Cruelty-free
A lightweight, non-greasy formula.
Super hydrating and can be added to hand lotion to keep your hands extra healthy and moisturized.
Salon quality hydration that restores natural moisture.  
Dropper designed to avoid contamination of the bottle and easy for everyday use.
Soy Methyl Ester, Soybean Oil, Jojoba Esters, Vitamin Blend – A, C