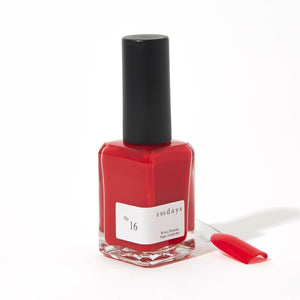 No. 16
Regular price
$20.00
$0.00
Ruby Red.
Shine bright and adorn your nails with this gleaming shade of royal ruby red. Rich and vibrant in color, this polish really pops.

Natural

Organic

Gluten-free

Cruelty-free
Cruelty-free, vegan, 10-Free, and non-toxic.
Does not contain dibutyl phthalate, toluene, xylene, ethyl tosylamide, camphor, formaldehyde, formaldehyde resin, parabens, and tert-butyl hydroperoxide.
Stunning and long lasting!
Stunning colour! I had a different shade and wanted a red nail polish. The colour is perfect and my nails lasted a full week without any chips (and without a top coat) and 10 days before they were bad enough that the polish had to come off.
Highly recommend this product and this gorgeous shade.