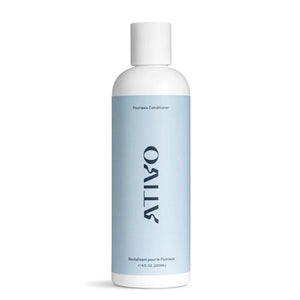 Psoriasis & Itchy Scalp Conditioner
Regular price
$18.00
$0.00
Ativo's Psoriasis & Itchy Scalp Conditioner helps to soothe a flaking and itchy scalp that can be associated with psoriasis. It helps to maintain a healthy looking scalp.

Natural

Organic

Recyclable Packaging

Cruelty-free
Apply to wet hair and massage in well for at least a minute. Then, rinse out with warm water. Repeat if required.
Water, Stearyl Alcohol, Cetrimonium Chloride, Cetyl Alcohol, Cetearyl Alcohol, Isopropyl Myristate, Dimethicone, Melaleuca Alternifolia (Tea Tree) Leaf Oil, Azadirachta Indica (Neem Oil) Leaf, Panthenol (Vitamin B5), Glycerin (Vegetable), Polysorbate 80, Parfum (Herbal), Aspalathus linearis (African Rooibos) Leaf Extract*, Butyrospermum Parkll (African Shea Butter) Fruit Nut Extract*, Pygeum (Prunus Africanum) Bark Extract*, Capsicum Frutescens (African Cayenne) Fruit Extract*, Quillaja (African Saponaria Soap) Bark Extract*, Matricaria Recutita (Chamomile) Flower Extract*, Camillia Oleifera (Green Tea) Leaf Extract*, Ginkgo Biloba (Ginkgo) Leaf Extract*, Rosemarinus Officinalis (Rosemary) Leaf Extract*, Salvia Officinalis (Sage) Leaf Extract*, Symphytum Officinalis (Comfrey) Root Extract*, Aloe Barbadensis (Aloe Vera) Leaf Extract, Trigonella Foenum Graecum (Fenugreek) Seed Extract*, Citrus Grandis (Grapefruit Seed) Extract*, Glucose & Glucose Oxidase & Lactoperoxidase (Natural Preservative), Potassium Sorbate (Food Preservative)

*Certified organic