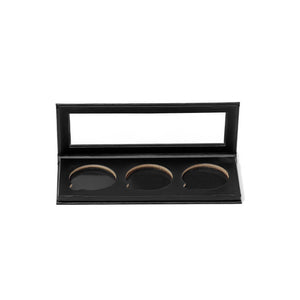 Triple Blush/Powder Compact
Regular price
$15.00
$0.00
Sappho's pressed powder blushes, eyeshadows and face powders are sold as refills and separately from their matching magnetic paper compact. This compact is meant for mixing-and-matching colours that work for you and refilling those you use most when they run out.
Toss the empty metal pan in the recycling and purchase a new one in a refill envelope as needed.

Natural

Organic

Gluten-free

Cruelty-free
Can be filled with three Sappho pans.

Great size for your makeup bag.

Made of recyclable paper.

Reuseable magnetic pressed paper compact because Sappho is doing their best to use the least amount of plastic possible.