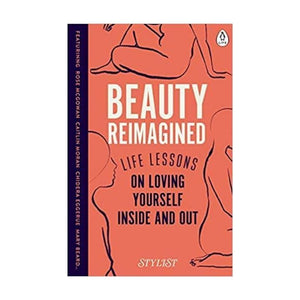 Beauty Reimagined: Life Lessons on Loving Yourself by Stylist Magazine
Regular price
$17.00
$0.00
What makes you feel beautiful? Drawing on their professional and personal experiences, a dozen remarkable women interrogate the concept of beauty.
Featuring: Mary Beard, Caitlin Moran, Chidera Eggerue, Yrsa Daley-Ward, Rose McGowan and more.
Never before has the idea of womanhood been as broad as it is today. Stylist has called upon some of the most prominent women across literature, politics, academia, media, and entertainment to discuss what beauty means to them.
From facial hair to acne, afro-textured and grey hair to shaved heads, saggy boobs and cellulite, what happens when women challenge the expectations that society places on their appearances? Through these unique, unblinking and witty essays from leading women who have turned their biggest challenges into their greatest assets, come 11 life-changing stories on why you already are your best self.
Learn these invaluable lessons from Mary Beard, Caitlin Moran, Chidera Eggerue (The Slumflower), Charli Howard, Stella Creasy MP, Yrsa Daley-Ward, Rose McGowan, Jess Glynne, Harnaam Kaur, Ava Welsing-Kitcher and Hanna Ibraheem.
*With illustrations by Charlotte Trounce*
choosing a selection results in a full page refresh
×

You are almost at free shipping.
Check out this page for basket adds:
Learn More
Or
Proceed to Checkout