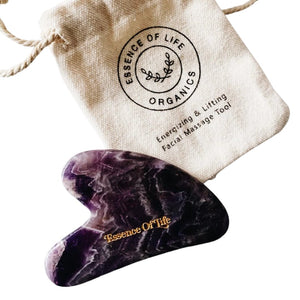 Gua Sha Tool, Amethyst
Regular price
$21.00
$0.00
Gua Sha — a facial massage tool that enhances beauty rituals by promoting the lifting and smoothing of the skin, leaving the face lifted and radiant after use.
Gua Sha has been practiced in Traditional Chinese Medicine for thousands of years. Perfected throughout the centuries, this gua sha tool was built to have a firming, lifting effect on the skin.
Amethyst is loaded with negative ions, giving it a great deal of anti-inflammatory properties. It is a wonderful choice for those seeking a more balanced complexion. If you have redness, breakouts or otherwise inflamed skin, amethyst is for you!
Amethyst is also considered to be the stone of meditation, because it creates a state of enhanced spirituality and contentment.
Decrease puffiness in the skin
Increase lymphatic drainage
Improve blood circulation
Best when used in conjunction with a beauty face oil
Made from 100% authentic amethyst
Start with a clean face and prep skin with a facial oil or serum.
Keep the tool flat against the face and begin with the forehead. Scrape in an upwards motion from the eyebrows to the hairline.
Move to the cheeks and scrape in an outwards motion starting from the crease of the nose until the ear.
Move to the jawline and use the end of the gua sha tool with the two curves. Start from the chin and scrape until the ear. Gently massage the gua sha tool into the ear to release tension.
For the under eye area, very gently scrape the gua sha tool from the inner corner of the eye outwards to the temple. Because the area is so sensitive, it is important to only apply light pressure.
Made from 100% authentic amethyst.
choosing a selection results in a full page refresh
×

You are almost at free shipping.
Check out this page for basket adds:
Learn More
Or
Proceed to Checkout