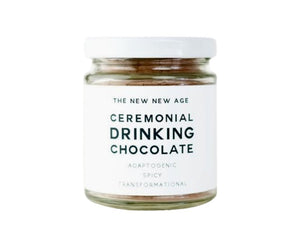 Ceremonial Drinking Chocolate
Regular price
$19.00
$0.00
An enchanting blend of organic and wildcrafted herbs.

Natural

Organic

Gluten-free

Cruelty-free
Adaptogenic, spicy, transformational.
In a base of raw cacao, this drinking chocolate elevates the spirit, livens the mood, uplifts, vitalizes, energizes, and transforms.
Use to make traditional drinking chocolate or add to smoothies, coffee or elixirs.
Raw Cacao, Licorice Root, True Cinnamon, Ginger, Cayenne, Reishi, Chaga, Cloves, Pine Pollen
All ingredients are either permaculturally grown, ethically wild harvested or certified organic.
just a little gives a LOT
Absolutely delicious in a hot cup of coffee, only a small amount needed for a real boost in flavour. Boosts the mood, too!